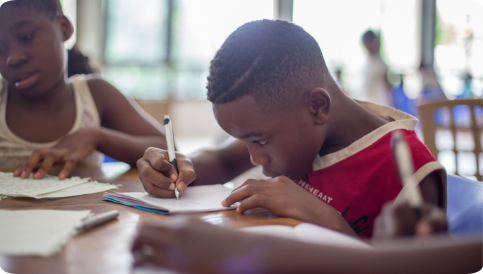 MADISON, Wis. — Elementary literacy nonprofit, Future Forward, is responding to pandemic-related school closures by launching new initiatives and keeping its kindergarten through third-grade reading program active during the summer months.
Future Forward team members across the country have reported receiving an unprecedented volume of calls from parents of struggling readers now juggling the extra challenge of keeping their kids engaged with their new homeschooling routine.
"We're working outside the box of our school-based tutoring curriculum and really emphasizing the family engagement piece of our program model," said Andreana Watkins, Future Forward Family Engagement Manager, Boys & Girls Clubs of Greater Milwaukee. "In addition to frequent phone conversations with parents, we're delivering bi-weekly literacy kits with books, snacks, and worksheets tailored to where each child left off before school closed."
While many have given in to more screen time than typically recommended, staff estimate more than half of children served by Future Forward programs across the country do not have regular access to a computer or WiFi in their homes.
"One core element of Future Forward's evidence-based learning model is an emphasis on tactile learning, helping students build literacy skills and improve social-emotional learning with printed books, paper, pencils, and tactile materials," said Kate Bauer-Jones, Executive Director, Future Forward. "Despite schools being shut down, we're working to do everything we can to help the students in our program who started the school year reading below grade level continue learning and hopefully catch up to their peers and return to their classrooms reading at or above grade level."
Future Forward is presently working with children and families at 14 school sites in three states. Tutors and family support staff from several school districts offer caregivers of early elementary school children tips to work through common homeschooling challenges:
Lean into patience and let go of perfection.
Do the best you can. These are stressful times and we're all juggling a lot.
Try to set aside at least 15 minutes every day to read with your child.
Talk to your child about their books, the pictures, and what the stories are about.
Be honest. It's okay to say, "I don't know, and we need to get help together."